You may have heard of the "Oliver Queen" from the DC Comics or the CW's hit TV show, "Arrow". As in every episode introduction, he constantly mentions his hellish experience about his accidental exile on a secluded island – this is right after he lost his dad in an unfortunate accident where he learned to hunt and eventually learned how to handle a bow and arrow. There has been many toy releases for this character, those toy releases were based on a certain DC timeline but for Mezco's case, they made a new outfit for Green Arrow.
I'll be unboxing Mezco's Green Arrow which is their recent toy release for their 1/12 scale figure.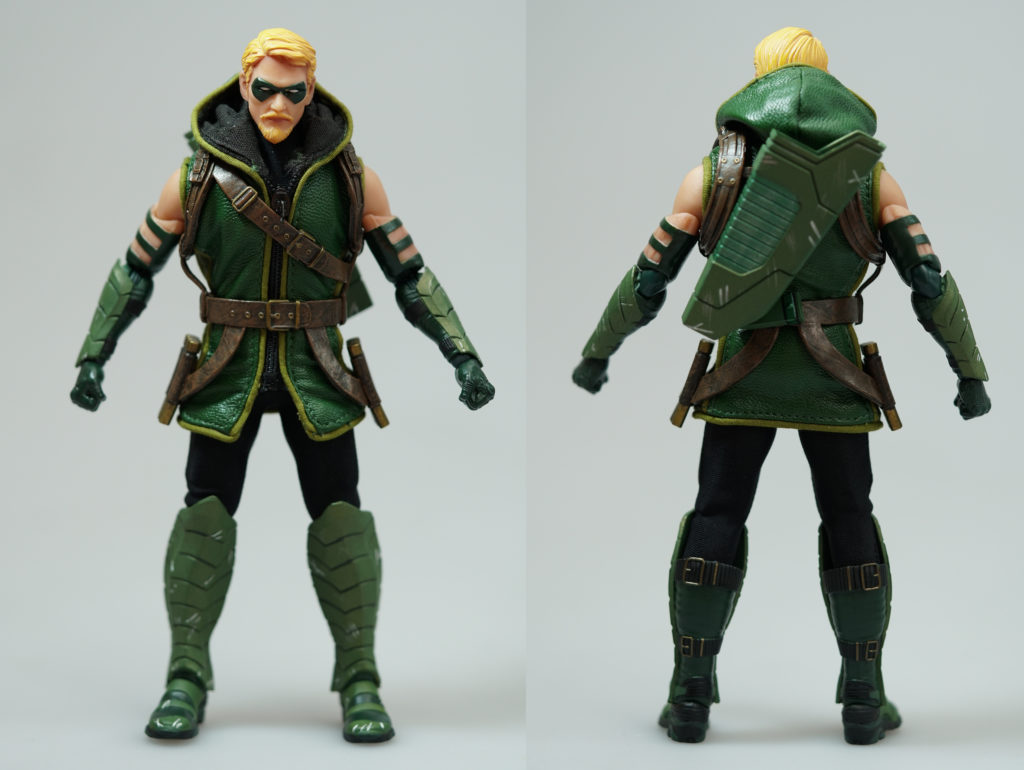 The box looks very premium, mainly because it's very pricey for a 1/12 scale figure and the figure itself looks very expensive – for me this looks like a small version of a "Hot Toys" figure. The box is covered by a cardboard with a printed Green Arrow logo and on the back it has the details on the toy – sample poses and some accessories that comes with it. If you are already collecting toy releases from the DC Collectible line, you'd find that this is very different from what DC has – packaging, accessories and even the quality of the figure itself.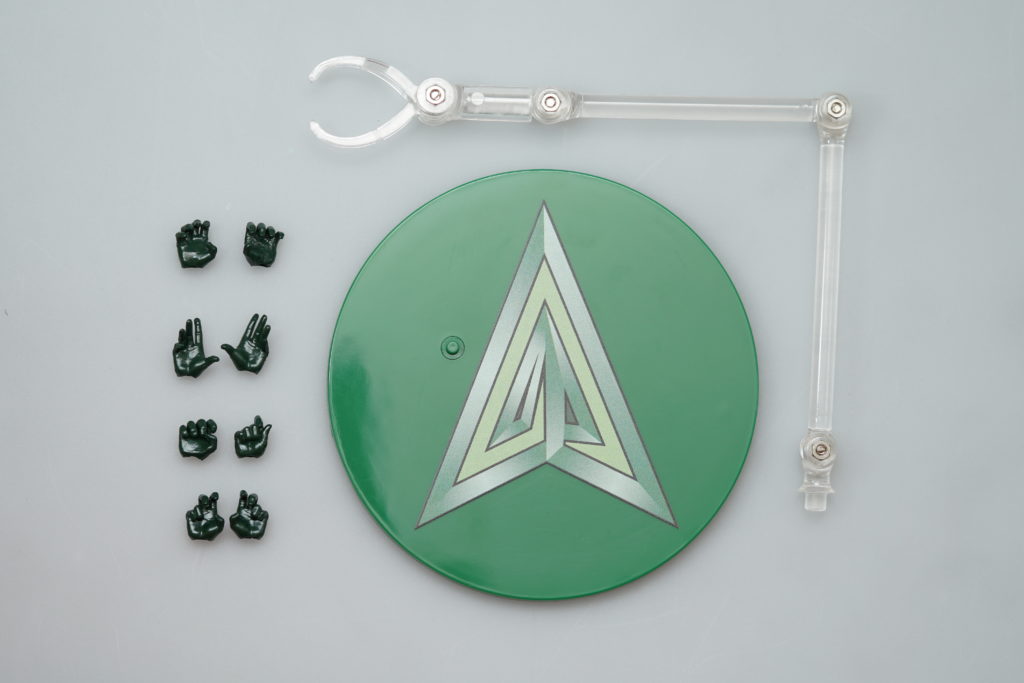 The Mezco Green Arrow figure has a removable hood – by removable, I mean you can put it on or you can just push it back when not in use. The hood has wires inside so you can freely pose it, it has wires on the hemline part and on the center of the hood. Although I find the hood very big, so big that it looks weird on him when he's wearing it. It looks like he has a big head hidden inside. The articulation on this figure is just right – compared to what we have with the DC Collectible figures – Mezco's articulation is just right for basic posing.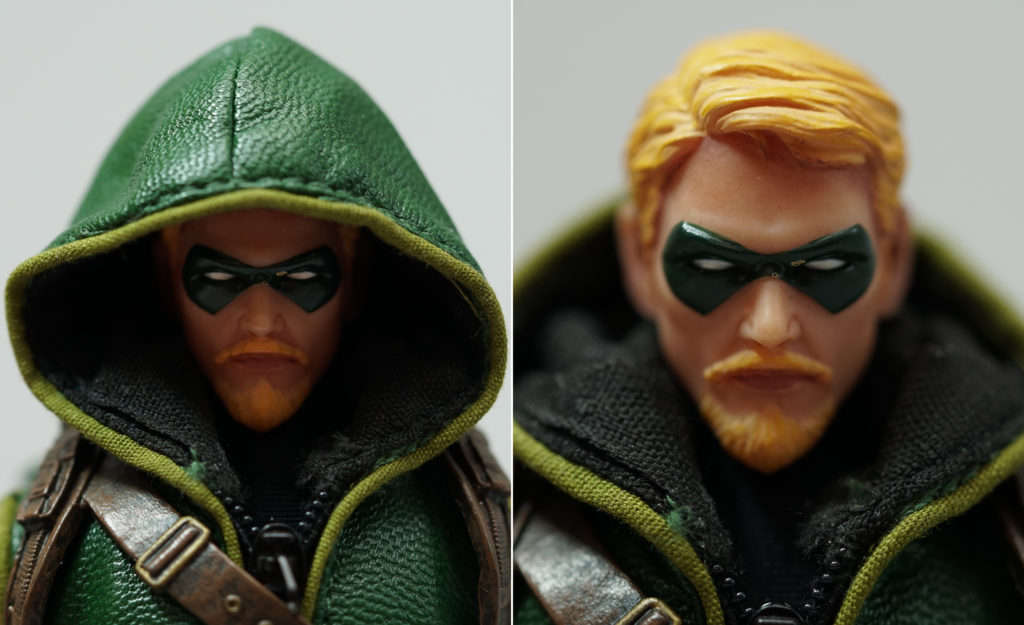 There's a fixed ball/swivel joint on the arms connecting to the body; there are 2 articulation on the upper part of the arm – the one connecting to the body and the biceps part connecting to the elbow. The paint and details on the forearm was neatly designed, you can clearly see some battle damages that are present on the figure, which makes it very realistic, and you can find some more battle damage on the other parts of his suit. This figure has 8 different interchangeable pair of hands. You can simply choose which hands to use depending on what you want your Mezco Green Arrow to do. There's a bow hold, arrow hold, closed and opened fists and grabbing hands.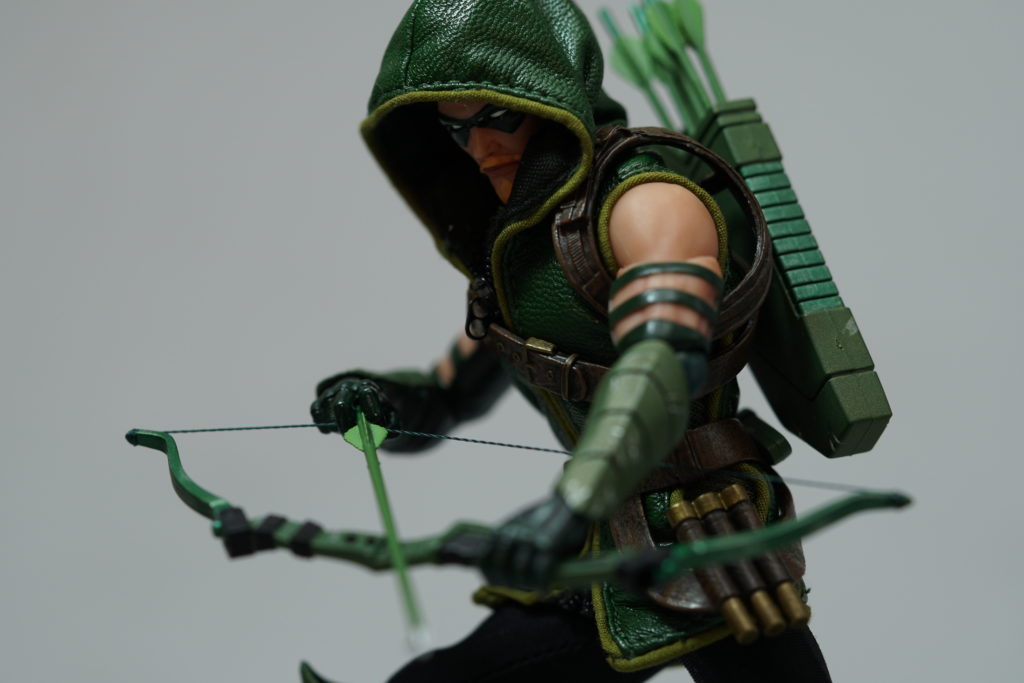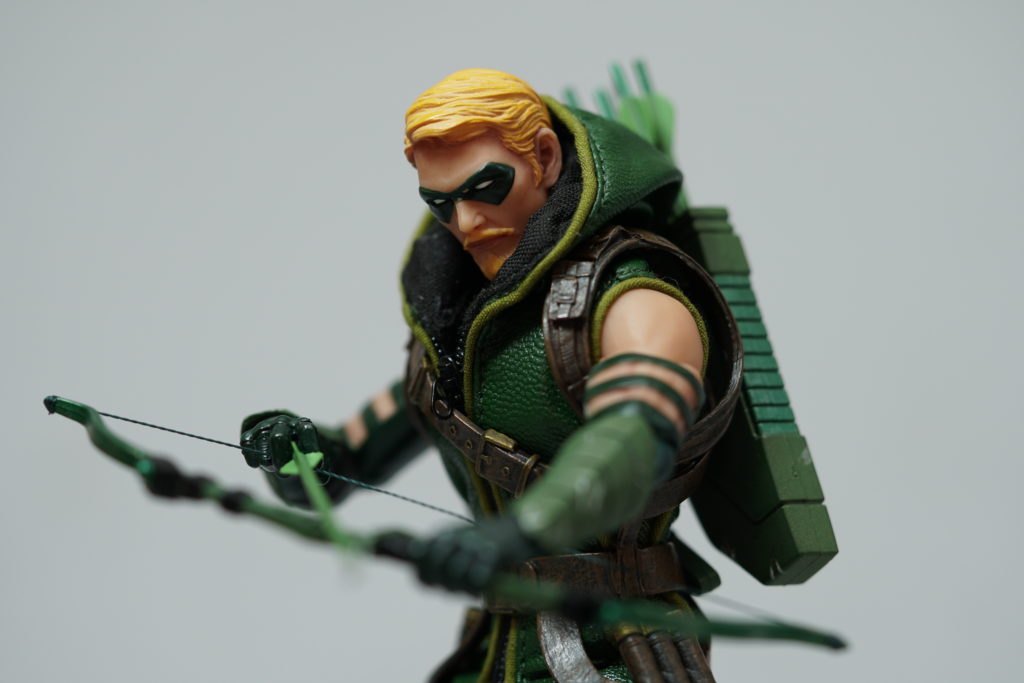 There's also ab-crunch and hip twist articulation present which means you can do battle poses for Green Arrow. Also if you notice, the details on his suit are nicely done. You can see leather straps on the front, suit zipper (although you can't really open it), holsters for some accessories and his big quiver for the arrows.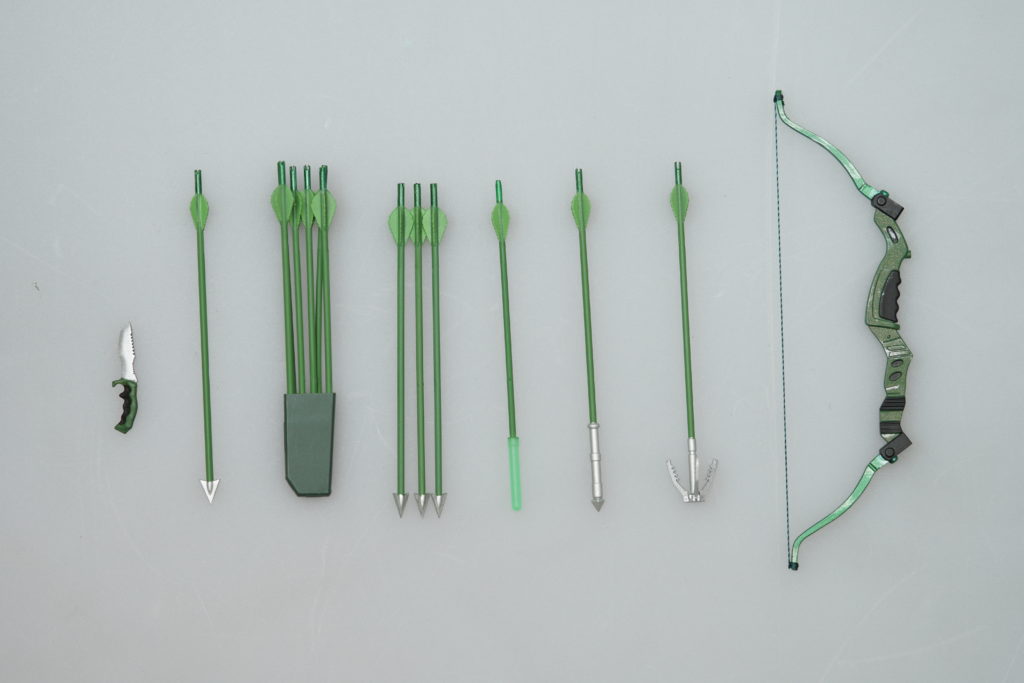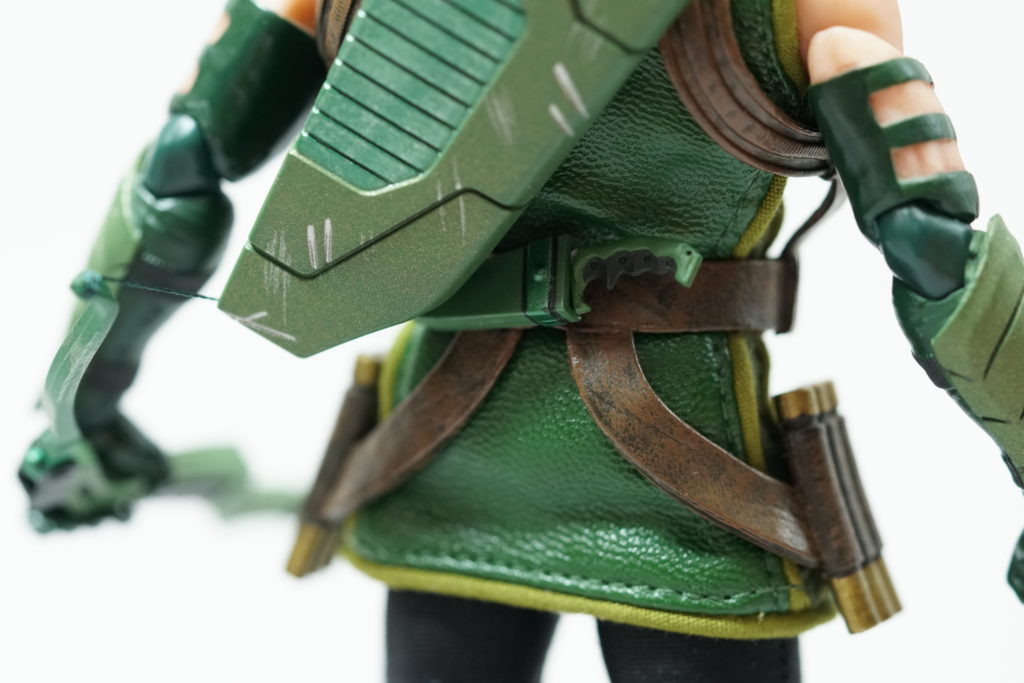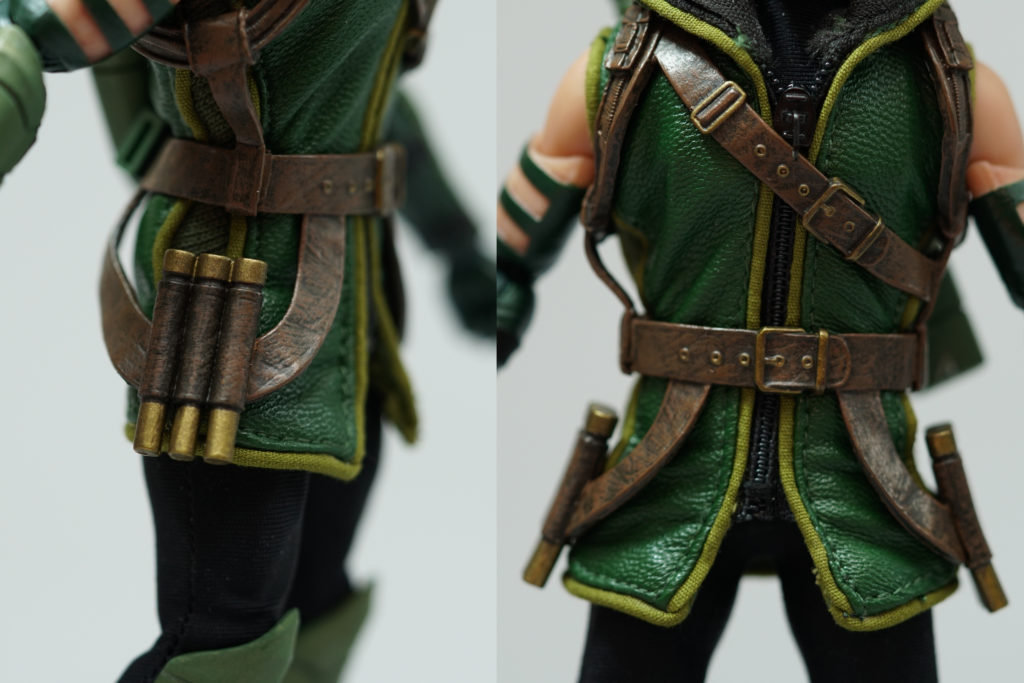 Let's now move the the lower part of the figure which I find very interesting for this Mezco Green Arrow figure. I've been handling few 1/12 scale figures before but this is the first time that I've encountered a leg that has stockings/cloth wrapped around it. If you look at it holistically, it fits the overall look of the suit but personally what I find hard to do with this figure is to do a pose the legs or fix its stance – mainly because I cannot see if the connecting joints so you really have to be careful when you pose it. There's articulation on the knees and you can actually twist the shin part of the figure. The ankle articulation is limited though so balancing the figure when you already have a pose in mind might be hard to execute.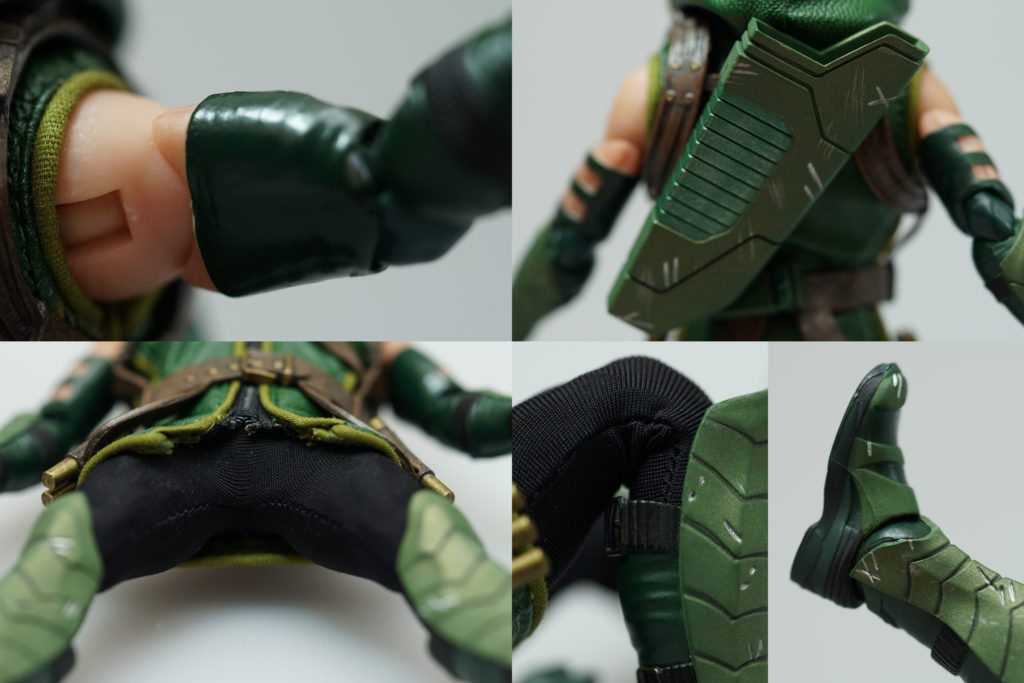 Overall, the figure is a nice addition to your collection especially if you're a DC fan or a Mezco collector. Since this is my first Mezco figure, I'd say that I'm pretty satisfied on how this figure is and how it looks if I place it together with my other Green Arrow figures. I highly recommend that you get this figure although availability wise, it's not as easy to get compared to your regular toys that are readily available at our local toy stores There specialty stores that you need to ask for you to get this figure – you can check around Greenhills or you can just go online. There are local Facebook toy shops that sells the Mezco line and other toy lines, I got mine from Collectors' Toy Box on Facebook.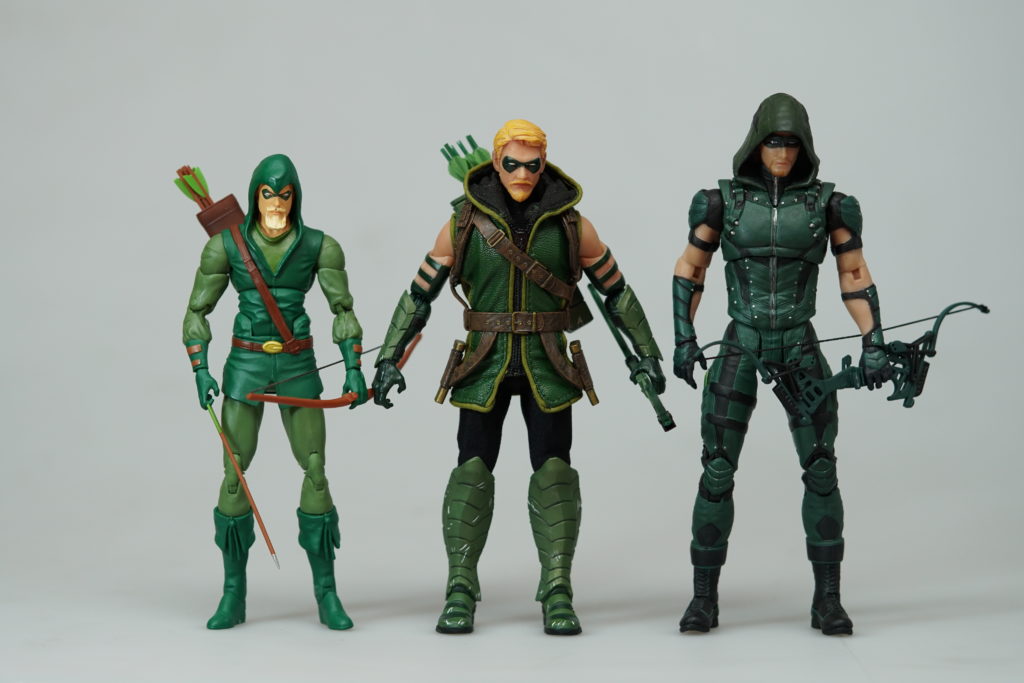 If you're an avid Green Arrow fan and you still don't have this figure added in your collection, I can only say that, "You have failed this city!"
Well, in my case, "I have failed my wallet."
-jvr
Note: This review can also be seen in Manila Bulletin's April 17, 2017 Tech News section