Who knew that toys too need food? My next featured photographer is more than just a toy photographer, she expanded her craft into polymer clay art! Her passion for toys exceeded up to making even the toy's food and drinks – if it weren't for the scaled photos, I would think that the clay art is a real food!
Again this article is aimed to inspire the toy community by sharing some real life inspirations – the best way to aspire others is to inspire them with the best – of course!
Our featured photographer is one of the founders of a toy photography community in the Philippines (Philippines Toy Photographers Club) – if you're not yet a member of the group I suggest you to join now! Today's featured photographer is also a good and artistic friend, Scher Padilla a.k.a. @lovepinkcheeks or some of you might know her as the woman behind @chibicravings.
When did you start doing "toy photography?"
"I started taking photos of my toy around 2012. I was already taking photos before I tried doing toy photography – collecting toys were more of a hobby before then it turned to be a passion when I started shooting them."
Since you've been taking photos even before you started trying toy photography, I'm sure someone from the toy photography inspired you – was there a specific someone?
"I was inspired by my good friend Sheng, most of you would know her as @Kixkillradio, her works really inspired me to shoot and try it out! Sheng was one of the pioneers of toy photography in the toy community in the Philippines. Certainly it was not only me that was inspired to shoot toys then, the community really grew and many photographers are joining toy communities almost everyday!"
Was growing toy photography interest the main reason why Philippine Toy Photography Club was made?
"If you're a part of any toy community in the Philippines, you would know that there are many different toy communities – it's as many as the animes or comicbook heroes you can name."

"Although there were a lot of toy groups, there was no unified group where other artists like me could share their works, that's when me and my co-toy collector, Nel, started building the group. It was less than a month when the group had many members and we've noticed that many were eager to share their works – there was really a need for this group to be possible!"
How's the group doing now? Was there any opportunities for all members to meet somehow?
"The community has grown a lot from the day we started building the group – we've expanded our administrator counts since the members of the community was also growing."

"We've conducted many gatherings like our first get together and even our first Christmas Party! I'd say until now the engagement of the group is still at it's high, although given the worldwide situation, many members also can't wait to see each other again in the hopes that everyone is safe during this trying times."
Thank you for sharing that story, I'm sure many are now trying to be a member of the group!
Going to the main topic now – as a toy photographer and collector, are there any particular toys or toy line that you collect or follow?
"Definitely Figma figures from The Good Smile Company! If i'm being specific to a toy – it would be Mayoi Hachikuji – I always bring her around whenever I travel. But I'm sure most people would also associate me as a big Sailor Moon fan – which of course – I'm also collecting most Usagi figures as much as I can."
I've noticed that your passion for toys also expanded into a different field of art – clay sculptures. Can you tell me more about it?
"Through out the years that I've been collecting toys and shooting them – I always am on the look out of doing something that is very unique. Your photos can be as unique as you but there's something that I think that wasn't done before in the toy community – food for toys!"

"It was a trial for me when I started sculpting my first polymer clay but in my mind I know the scale that I wanted to do – that is the scale the would perfectly fit the hands of toys! That basically was the start of Chibi Cravings"

"Up until the day I started – I haven't stopped doing polymer clay art. I'd say this transition is a compliment to what I already was doing – photography and toy collection – as it add more character to the figures I try to bring to life when I take photos of them. Now every toy can eat and drink!"
As a friend, I know you've always had this mini-stage frights when facing the public, how did you manage to overcome those when you were asked to be interviewed for your polymer clay art?
"The passion for the art was the key to overcoming them. I always wanted to share to everyone what I can do and I was so blessed to be featured in TV show segments to showcase my works."

"I always loved toy collecting and toy photography and it made me love it more when I started adding my polymer creations into it."
Do you have any inspiring words for your fans and to all who wanted to start their passion?
"Never lose your passion! Whichever aspect it may be – toy photography or even polymer clay sculptures! Always remember that it's a totally fun hobby and the community is so welcoming."

"Everyone is so eager to help each other out, so you'd never lose inspiration whenever you feel like having it."

"You'll never know who might take notice, so have fun and and enjoy the things you love to do!"

That concludes my very fun feature for Scher. I'm very happy that she found a new hobby – which was the polymer clay art – while doing her original favorite hobby. I hope many were inspired by Scher's story. I know some of you might be itching to see her works – I'll be sharing links to her accounts below!
Chibi Cravings' Official Facebook Page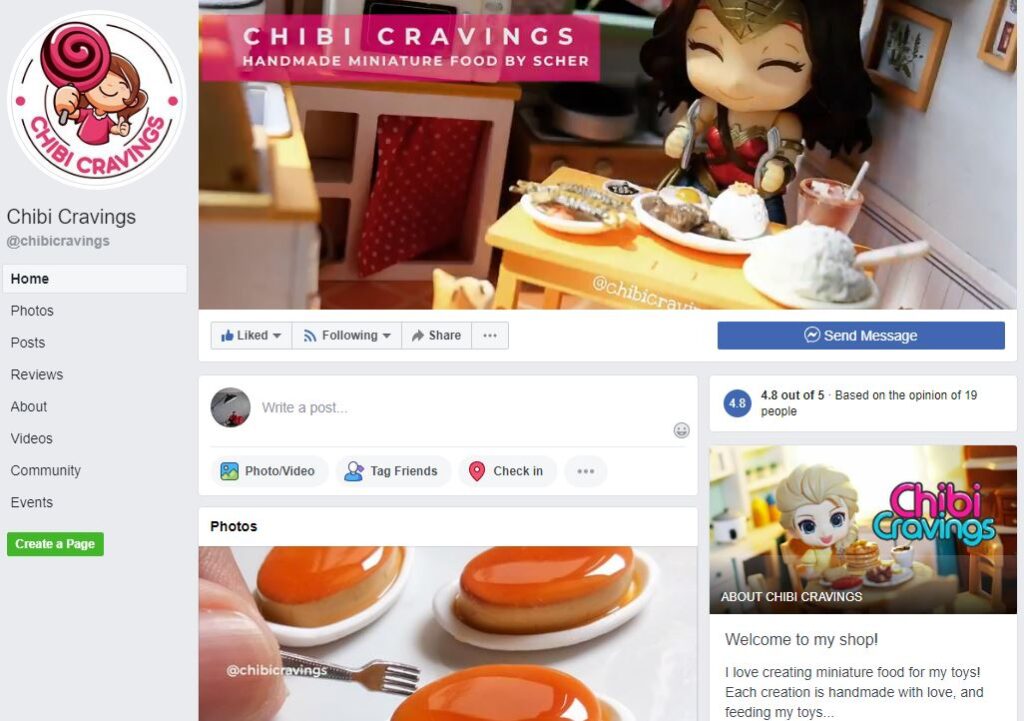 Chibi Cravings' Official Instagram Page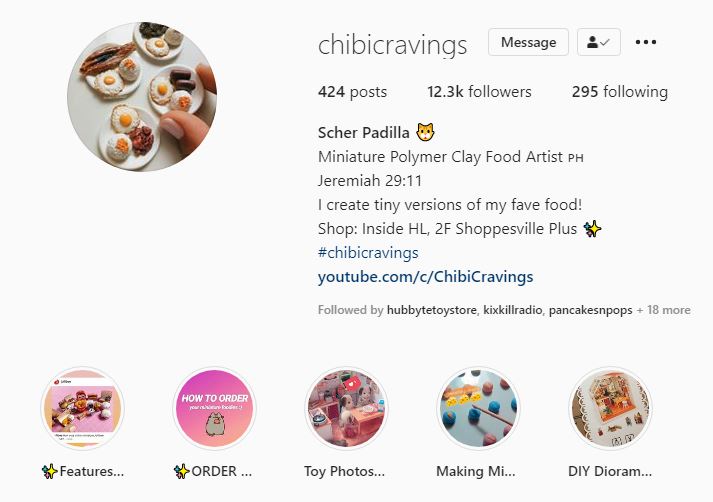 Love, Pinkcheeks' Official Facebook Page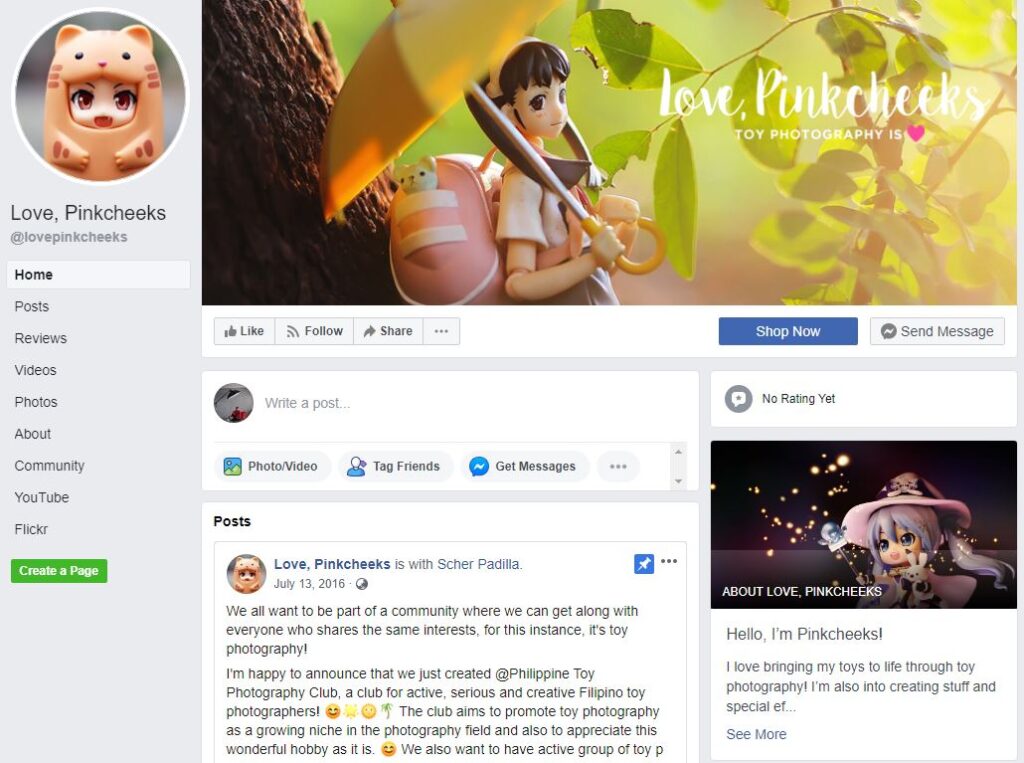 Love, Pinkcheeks' Official Instagram Page
Who do you think will I be featuring next? Probably someone outside the Philippines? Stay tuned!